What's in the bag?
December 18, 2012
I tend to jump into a lot of things head first and pass by the smaller, more important things. Today, we're going to do a whats in the bag. If you've attended one of my workshops or one on ones, then you know I say; "A photographer is worse than a doctor. When a doctor goes on vacation s/he does not carry a black bag. They leave work behind. Photographers on the other hand always have a camera bag…even if going to Wal-mart!" And this is true. So let's take a peek and see whats in my travel bag?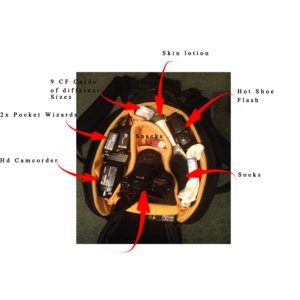 So let's review everything in my travel bag and work from a clockwise position starting at the camera and move forward. Before we break it down I call this my "travel bag" since it contains the camera I use most often. It has:
1.) Canon EOS 7D with Polaroid BG-E7 Grip
2.) Sony HDR-CX12 HD Camcorder (with remote)
4.) SanDisk Extreme CompactFlash
5.) Aveeno lotion.
6.) Canon Speedlite 420EX
7.) Socks black and white
8.) -Not pictured- Lens soft brush
9.) -Not pictured- 10inch portable white balance card with silver reflector on other side.
10.) Not pictured-Extra client releases
These are all things that are in my travel bag. I have socks because I shot a wedding once and the groom forgot socks. I ran out and purchased him some socks and vowed to never leave home with out them. I have "snacks" listed in there because we tend to be on our feet for long periods of time and can get low blood sugar. This can be life threatening for me so I have Glucose tablets in the bag and in my pocket at all times. I have doubles of everything in the bag with the exception of camera. If I'm doing a session where I need to have backup cameras, then I bring my other larger bag that has the other two cameras.
What's in your bag?