Meet the Models: Paige
November 11, 2012
Last week our Old School Friday model was Paige. This week, you get to meet her!
First time I met Paige was at a night club fashion show
As I said in the Old School Friday post, the first time I saw Paige was at a night club fashion show try out I was covering for a friend. I HATE shooting at night clubs because the lighting is terrible and in my experience, the photos produced are less than professional. I was heading to Kansas to teach a workshop the night of the actual event, but shot the try out images for the friend. As usual, most night club events (and even tryouts) never start on time and I was sitting around for about an hour. During that time I saw this to me, extremely beautiful TALL blonde and wanted to shoot her. She was quiet, laid back and an observer.
Finally, the casting started and I saw Genna as well as another model I had wanted to shoot later. Paige was one of the first ladies up and I was glad as I had used the others to test my light. She was tall, leggy and had a quiet but confident poise about her.  Yup, I knew right away I had to shoot her. I didn't approach her at the event, I posted some images on my facebook page and as a result, asked "general innocent" questions as to who she was. Someone tagged her in the photo and I added her and sent her a message.
She replied telling me she had a few inquires but never really set anything up. She had one shoot but that was it. That modeling was something she was interested in doing, but never really actually pursued. I told her to just come on in for a session and we'll see how it goes. I told her that I thought she was beautiful and had a perfect body for it, just give it a try. She did and we shot at an abandoned building that I loved to shoot in at that time. Across the street from the abandoned building is a tire shop and the owner had been waiving me down to come shoot there a lot. I went over to see what he wanted and he said I could shoot there any time I wanted. I told him I'd go over after I was done shooting in the building. We shot in the building and conversation was easy with her. I had expected her to know how beautiful she was but it was quite the opposite! She was content with being who she was and preferred to keep her nose in a book. I found out she's highly intelligent which made for cool convos and time passing.
Photos from the shoot:
After our shoot, we went back to the Tire Guy and got some photos:
When we were done, the owner wanted to get a photo with Paige. Don't you love the excitement on her face?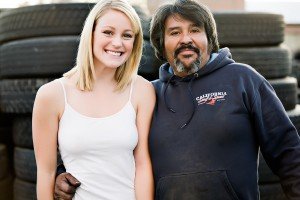 After this shoot a few months had lapsed and while I sent her a few messages via Facebook, she never responded.  I found out she wasn't big on social media but ended up getting an email from her. She was busy with school and wasn't a huge social media person. I was teaching my End of the Year shootout. The shoot out started at 12pm and ended when the last model went home. Paige showed up and was part of the Santa's Sexy Helper shoot (lingerie) and ended with just a fun crazy run around shoot out. Paige lasted way into the late evening and was a trooper. Everyone got great images and it further solidified my thoughts that Paige was the best!
After the EOY shoot she and I kept in touch but remember, she's not big on social media so it was stressed. One day I got an email from one of the magazines I had successfully submitted to. They saw Paige and wanted to feature her in the magazine as well as on their website. The trick was they wanted the images in the magazine to be "clean" where they wanted implied images on the website. I had told Paige this and she stated she didn't want to do implied anymore.  I figured her look and body would be enough for the magazine to overlook the lack of implied so we shot. They loved her look but being she wasn't open to implied, they passed and went with another model.
After the magazine passed on her I hadn't heard from her. I got an email telling me she had signed with a new "Agency" and she wasn't happy with the photos the Owner/Photographer was producing so she wanted to book a session with me. I know the "Agency" to be a scam and refused to have my work associated with them so I had to decline. That was a difficult thing for me to do because I was virtually saying I didn't want to shoot someone who I really wanted to shoot all the time any time she wanted. I felt I was forced with a choice between shooting her and allowing her to use the images and giving attention and even having the scam agency pass the images off as their own. She said she understood and it was two years before I heard from her again.
Early 2012 I sent her an email and asked how she was doing. I wanted to check in and see how she was doing as it had been some time since we spoke. I had hoped she wanted to shoot but assumed she was still with the "Agency" and realized that wouldn't happen. I got an email back from her pretty quickly and to my delight, she was ready and willing to shoot. She had said it was a year since she shot and that she had a bad experience with the "Agency". Shoot booked, I was looking forward to hearing the story but more excited to see and shoot Paige.
She showed up and looked GOOD! She looked as good as she had the last time I saw her two years prior. While we were shooting she told me about the scam agency and the things the "Owner" told her. He repeatedly told her she was fat and needed to lose weight. She became disenfranchised with modeling and left for over a year. Not to mention she paid this owner/photographer a lot of money and not only never got her jobs, but didn't get her images that were basic bottom line industry acceptable. She realized the owner/photographer has his agency to seduce and exploit young women for their money and virtue. She wasn't with it so she dropped out and turned her back on the industry. Our shoot was her first time back in front of the camera and she looked better today, than she did when I shot her and she was stunning then!
I'm happy to say Paige will be one of my first shoots when I relocate to Denver over the next few weeks. I'm excited to continue the journey with Paige!