Meet the Models: Danielle
November 9, 2012
Meet Danielle.
I was still "New" to Colorado and had shot a few people. Right around the time I exploded on to the Colorado market, I had shot a friend of Danielle's. Danielle had contacted me and wanted to shoot, but she was leaving for Vegas Thursday. She contacted me Tuesday and wanted to shoot Wednesday. I agreed to the shoot but KNEW she was going to flake out. She contacted me on facebook so I took a few minutes and looked over her galleries (This was before you could lock everyone out!) I was impressed with what I saw. The first thing I saw were beautiful green eyes! Not just green eyes but SPARKLING and BIG green eyes! Great smile. Her nails were ALWAYS taken care of and she had great hair. Now of course I have to say it, she had a great body! Just so happens one of the pics I saw was a bikini and she filled it out very well…if you know what I mean 

At this point, I was excited for the shoot, but reserved as I knew she was going to flake.
Wednesday came, I got to the studio early to hang out and do nothing major. Low and behold at 6pm on the button the door opens up and in walks Danielle! Not only did she come in, but her MUA was just as stunning!  We did paperwork and she got her face on and we got ready to shoot.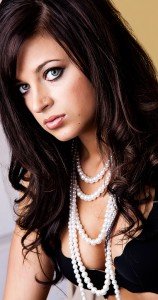 Her friend had done a few shoots with me and Danielle really liked one of them. It was an implied shot and she was more than ready to shoot it. What's better than a beautiful woman with a great body? One who isn't ashamed or afraid of her body. We shot lingerie and implied as well.
We had a blast at the shoot and shot several more times after that. On our third shoot we pushed the envelope and went outdoors to a favorite tucked away spot of mine. It's off a bike path but outdoors. She wanted different? Lets shoot topless outdoors. She was down and nailed it: