Meet the Models: Audrey
November 10, 2012
I first met Audrey on Facebook. She was a friend of a friend and I loved her look.
She listed on her Facebook page that she was Brazilian, so I sent her a message that said "você muito bonito!" I never got a response from her so I didn't know if I offended her by telling her "You're very pretty" I was determined to not give up! A few months later I sent her another message asking if she'd be interested in shooting. She said she was, but at the same time was very curt with me. I told her that I was having an "End of the Year" shoot out where there were tons of models and photographers present. She said she would but disappeared. Little did I know, at that time her Mother was over her shoulder watching and reading everything she said.
Being our convo was so odd, I had no doubts she would NOT show up. This was fine because I had 28 models show up to my 10 photographers. We started shooting at 10am and ended up shooting until midnight. Around 8pm, the door opened and in walks Audrey. First impressions were she was beautiful! Great body, amazing look and well manicured! With the exception of black fingernail polish, she was perfect! Because the night was so crazy for me who was facilitating the event, I did get an image of her with male model Caleb:
After the event, we spoke and agreed that I didn't get to shoot enough of her so we agreed to have her come back in for a shoot with just us.
She agreed and we set a date. To say I was anything other than amazed is an understatement! She was shy yet confident. Sassy but young. She knew she was beautiful but didn't really throw it in my face. At the shoot she had decided she wanted to shoot some implied shots. She had one condition; make sure her boobs were perfectly round in every photo. I haven't before and after-to this day, met someone that is obsessed with perfectly round boobs!  We shot over three hundred images that day! Here's a few images:
Video:
[embedplusvideo height="365″ width="450″ standard="http://www.youtube.com/v/IaBzib2LVZ4?fs=1″ vars="ytid=IaBzib2LVZ4&width=450&height=365&start=&stop=&rs=w&hd=0&autoplay=0&react=1&chapters=&notes=" id="ep2197″ /]
After the shoot all was well and we had several other sessions. As time went on, she sadly put less emphasis on shooting and as a result, stood me up a few times. I lost interest in her and we fell out of touch. She contacted me about a year ago and I had her out for a small outdoor workshop. After that, she pretty much disappeared and that's where we are. One of the reasons we haven't been in touch was she decided, which is her right, that she didn't want to shoot up to implied topless. With her being 5'4″ I couldn't use her for anything other than glamour (boudoir, implied) so I didn't chase her. She's had a few shoots with local photogs so good for her! She was responsible for getting my 2010 "image" . Every year I pick the previous year's best image as my business card and overall representation. That photo? Right here: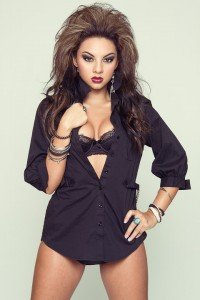 Here are a few other images from that session:
Wishes of good luck and continued success in everything Audrey does!