Meet the Models: Kelsey Skrbina
March 25, 2018
Meet the Models: Kelsey Skrbina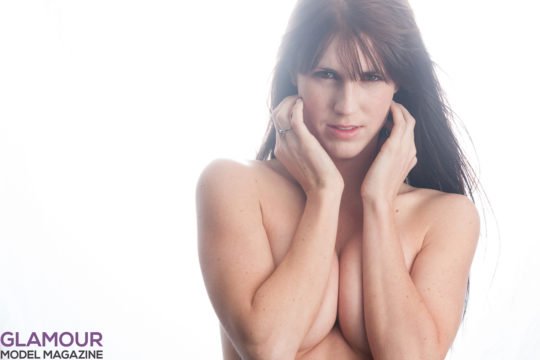 Meet the Models: Kelsey Skrbina is one of those fun but tragic ones for me. I first met Kelsey back in 2011. Early February, Kelsey had saw work I had done with Audrey and a few other Thornton girls. Kelsey wanted to shoot. The images she had submitted were typical of Colorado photographers; good for the area then, but sloppy. It was of her with her shirt unbuttoned save the last button and in black and white. The black and white was done by general monochrome application so the image looked faded and muddy. I had asked her what styles she wanted to shoot and she told me she was down to shoot up to implied topless. I looked over her Facebook page and used her selfie images to determine I wanted to shoot her.
We had excellent communication and shoot day arrived. The date was February 23rd, 2011. Kelsey was on time to her shoot and nervous, but excited to shoot. We talked for a few minutes to get to know each other in person and decided it was time to work. Kelsey wanted to start the way I do all my shoots; more clothes and work into less. From our first shoot I learned she's a Daddy's girl. She was going to school to be a dentist and that although being super cute, she was super intelligent.
After the shoot, I posted a teaser image of Kelsey and her soccer friend, Chanel(?) Slayton posted saying "Too conservative" before I could get anything out, Kelsey replied with "Just wait, they get better." I thought "My kinda girl!" She didn't get mad, but was clearly annoyed. While talking about it later the next day, she said she was very annoyed by Slayton's  comment, but that Slayton was ghetto and scary. That she fights all the time and her and her sister and cousins and friends were thugs. She didn't want to back down, but she didn't want to cross an imaginary line and have the ghetto queens after her.
Her photos got a ton of likes and interaction on both our Facebook accounts, so she wanted to shoot more. In that time we spoke often and grew to have a great relationship. We spoke about everything from her being super smart, to the fact she was a virgin saving herself for her husband as per God's wishes. Super religious promoting her purity ring, swearing like a sailor = my kind of girl! I dug her right away! Our next shoot was more lingerie and fun times
Kelsey and I used to joke around a lot. My being impressed she was as smart as she was, I'd make a comment like "Sometimes I forget how smart you actually are!" to her reply "For a girl!!" Our fun went on like that over several years! I had did a shoot of Kelsey at her gym when she was big into Cross fit training. I had a buddy meet up with me and we shot the gym and Kels. I was putting together a lighting video and wanted to have Kelsey as one of the models of it. We shot this
With the video shoot was over, Kels and I wanted to shoot just for fun and we did!
I had moved back to MN due to my illness but hated MN and wanted to move back to CO. Of course Kelsey and I were in contact and she sent me this screenshot of a wannabe model and herself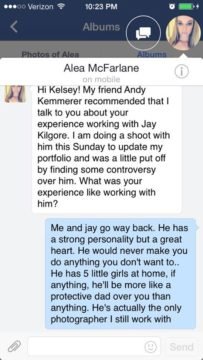 It was great to see she had my back. The controversy young Alea spoke about was my treating photography like a business. I wasn't shooting hot chicks to wank off to the photos, I shoot as a business which means NO! You will not tell me what to do with my images. Kelsey's response was funny to me as I don't view myself as having a strong personality, but how I see myself isn't important. I do agree with her regarding the protective aspect. It just happens when you get to know and truly like someone. Alea and I shot and had a good time. While I as gone, I started working for Glamour Model Magazine and Kelsey decided to be featured on it. Before that feature happened, I wanted to do a CK inspired shoot. Calvin Klein is known for having some of the sexiest spreads and I wanted to get some ideas. I posted a casting call looking for male models and Ryan was chosen by Kelsey. They had great chemistry, but Kelsey's ridged strict implied only killed the shoot. She was so focused with her areola/nipple showing, that we had to reset and re-shoot every shot. None of the shots had anything showing, but she interrupted the shot to make sure.
The day was perfect; overcast with rain falling at the end of the shoot. They kissed and it was super hot for Kelsey. Ryan wanted to get to know her better but Kesley staying true to her purity ring, shot down any suggestions of anything more. Kelsey wanted to re-shoot with Ryan, but I decided due to her need to interrupt the shot to make sure nothing was showing, wasn't worth the time of recasting her and declined.
My last shoot with Kelsey came right before I moved from Colorado to California. Kels and I had been in communication and I professed my extreme love for her mother (Her mother is a hottie!). We vowed to make this shoot super hot and we did
After that shoot in 2012, I spoke to Kels very infrequently. The only times I had heard from her then, was when she wanted free shoots. She had changed her life goals and became an under-study of her mothers in Real Estate. Being she paid thousands of dollars to get her doctorate, I felt she should have stayed that path, but supported her in all she did. Mid 2017 I got an email from GMM that Kelsey had written them requesting images. Her email request had said she was getting married to  gentleman named Harrison Hellner and she wanted some of the photos we took previously to put together for a sexy book for him. Five years and not hearing any word from her, I was a bit offended that she would contact me asking for what equates to about 20 hours of work and about 3,000 worth of product for FREE.  I replied and told her she had two options; buy her copyright or pay me to put it together and send it out to her. I've not heard a response from her.  Kelsey did end up getting married and is a fully licensed Real Estate agent Kelsey Skirbina- NOVA Home Loans. Good for Kels for figuring out what she wanted to do and doing it! I've not spoken to Kels since 2012. The email she sent I don't count because she never replied back. I wish nothing but the success to Kelsey, but like many of the girls she promised she'd never be like, she ended up using me to get shoots out of. I don't regret it because I got some amazing images from her!
March 2018 Glamour Model Magazine will feature a paid members area where I'll be uploading all my Kelsey photos and videos!
32C, areola, calvin klein, CK, cross fit, daddys girl, ghetto, ghetto queens, glamour, glamour model magazine, gmm, God, implied, kelsey skirbina, Kelsey Skirbina- NOVA Home Loans, Kelsey Skrbina Hellner, lighting video, lingerie, milf, nipple, purity ring, real estate, religious, Ryan Brown, scary, sexy, slayton, thornton, thugs, virgin, wannabe model